Roman

Add Roman as a friend

Roman will be notified and will have to accept this friendship request, to view updates from Roman and their ratings you must follow them.

Remove Roman as a friend



About me
I'm 26, of Mexican/Spanish descent.
I work & play hard.
Systems Analyst for Nexstar Broadcasting Group Inc., amateur photographer, tireless & proud techy urbanite/geek, film aficionado...
I love everything related to cinematography and the film making process, particularly foreign and indie film, films released by Focus Films and the like.
Occupation: Systems Analyst
Single
About my collections
It may not be your typical movie buff's extraordinarily large collection, but it's a start and a reflection of who I am, and what I like and enjoy the most, I buy more and more movies on an irregularly continuous basis and will gladly add them to my list here.
Lists
Recent reviews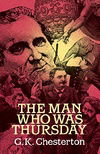 Posted : 12 years, 5 months ago on 6 July 2006 12:28 (A review of
The Man Who Was Thursday
)
"Delicious, witty, fast-paced novel about a club of anarchists in turn-of-the-century London and a poet/sleuth who infiltrates their ranks. Inventive and ingenious story becomes a vehicle for Chesterton's brilliant social, religious and philosophical speculations." -

0 comments,
Reply to this entry
Movies
TV
Games
Books
Favorite Authors
DVDs
Comments